Justin Townsend was a happy and carefree 12-year-old looking forward to starting junior high when he started experiencing debilitating headaches in September 2013. After being treated for migraines, the pain became so severe that we rushed him to the emergency room. It was there that doctors discovered a brain tumor. Justin required brain surgery three days later, and three weeks after that, he was diagnosed with Glioblastoma-Multiforme, a highly aggressive form of brain cancer.
As parents, we were devastated. We knew that our son had a long and difficult battle ahead of him. We made the decision to take Justin to St. Jude Children's Research Hospital in Memphis, Tennessee. We knew that St. Jude is the place that treats the toughest childhood cancers more than anywhere else in the world. It was the best decision we ever made.
During his time at St. Jude, Justin received the best medical care possible. The doctors and staff at St. Jude treated him with compassion and kindness. They had accommodations that allowed our family of four to stay together, and we had nothing to worry about except making memories and getting Justin better. St. Jude gave us hope during the darkest time of our lives.
Just before Christmas 2013, Justin was able to go home. But St. Jude didn't stop supporting us. They established a treatment plan with Justin's home doctors, mailed medication to our house at no cost, and provided return visits to St. Jude when needed. They continued to be a part of Justin's care even when he wasn't physically at the hospital. Once a St. Jude patient, always a St. Jude patient.
Sadly, after a long and hard-fought battle, Justin passed away on August 7, 2014, at the age of 13. Even though St. Jude couldn't save Justin, they gave us hope and courage to fight alongside him. If going to St. Jude gave us one extra minute, one extra memory with him, there isn't enough money or ways to thank them. Danny Thomas said it best, "No child should die in the dawn of life."
After losing our son, we knew we had to do something to help other families going through the same nightmare. That's why we formed Team JBird to raise money and support families and children fighting childhood cancer. Team JBird started as a small group of family and friends attending a local St. Jude walk. It has now grown into a thriving community determined to make a positive change.
In 2022, we founded 13Forever, a nonprofit organization dedicated to giving back to numerous cancer organizations and research facilities. Our hope is that through our efforts, we can make a difference in the fight against childhood cancer. We know that our son Justin would be proud of the work that we are doing to honor his memory and help others.
Thank you for supporting Team JBird and 13Forever. It means so much to our family. Every dollar counts, and every family counts on that dollar.
Thanks to the unwavering support of our community, Team JBird has been able to raise over $100,000 for St. Jude Children's Research Hospital. It's been a long journey, but we're proud of what we've been able to accomplish together. In fact, during the 2021 St. Jude Walk/Run, Team JBird ranked 31st in the nation for fundraising - an incredible feat that we never could have imagined when we first started out.
What began as a small group of family and friends attending a local walk has now grown into a vibrant community of like-minded individuals, all of whom are committed to fighting childhood cancer. We're constantly amazed by the outpouring of support that we receive from our community - whether it's through donations, volunteering, or simply spreading the word about our cause.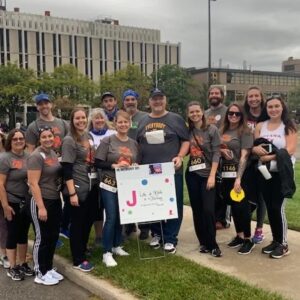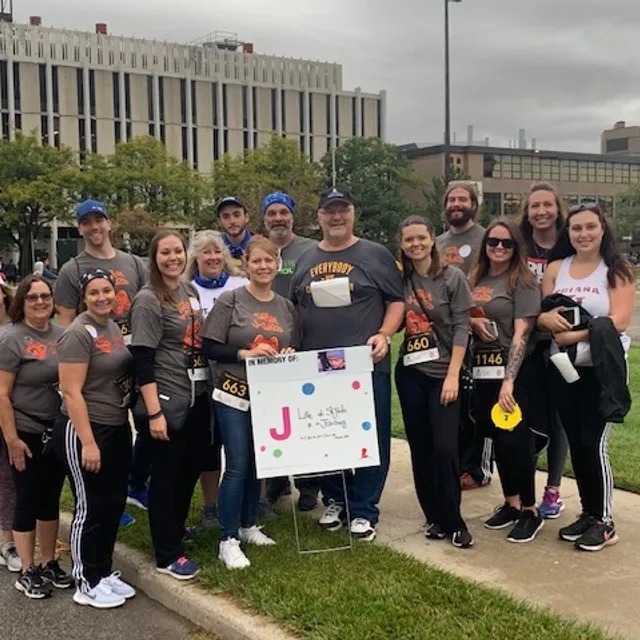 Check out this interview with the founders of 13Forever on Fox2 to learn more about why we started our mission to support Michigan-based companies in the fight against pediatric cancer.
Roy and Carol Townsend formed 13Forever Inc. to raise funds and aid families and children undergoing treatment at St. Jude Children's Research Hospital after losing their son Justin to brain cancer.